I love showing off and talking about Santa Barbara. Where to start, what to include? You'll of course miss some of my personal favorites. Some other time consider coming up for Memorial Day Weekend when we have the I Madonnari Italian Street Painting Festival at the Mission. I've been a sponsoring artist for about 16 years. Summer Solstice Parade is another huge hit (Saturday closest to the summer solstice). I am almost always a part of that production. You can see photo albums of those events on my .Mac page(s).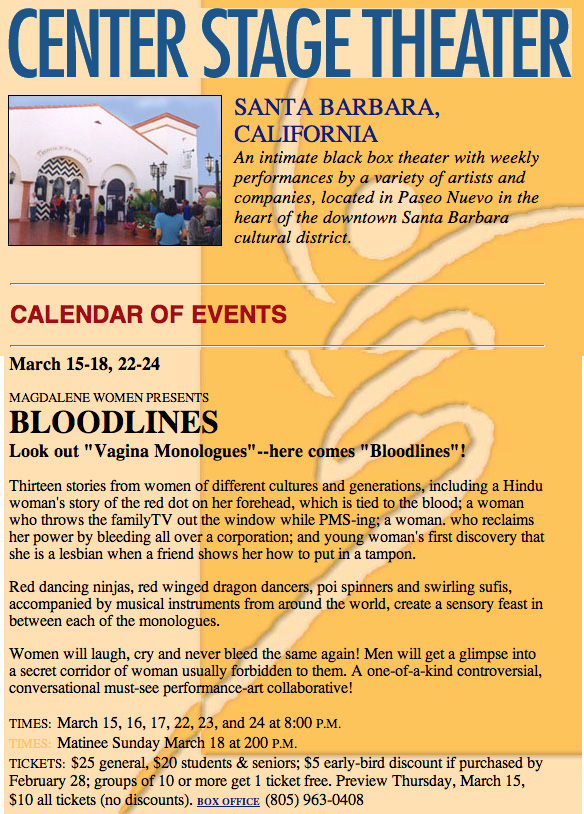 I have to plug Center Stage Theater first as I'm on the board of directors. CST is located above Paseo Nuevo in the heart of downtown. The patio has excellent view of the foothills and the Santa Ynez mountains behind them. Also upstairs, you'll find the Contemporary Arts Forum (CAF) which may have some exhibits you would enjoy. We are a for hire venue, meaning we rent the facilities to producers. I don't know anything about BLOODLINES, but Center Stage is a wonderful space for adventurous performance audiences. And quite economical for live performances.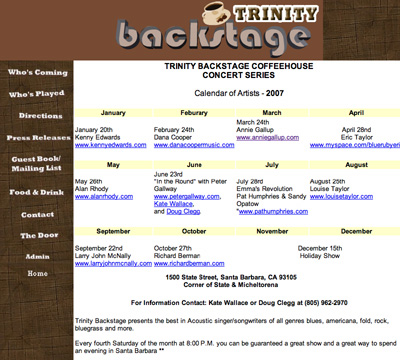 Trinity Backstage is a secret favorite on the 1500 block of State Street. Monthly, intimate acoustic performances from a noteworthy collection of artists which just happens to one of the best bargains in this little town. Only $8! (Might have increased this year to $10, still wow!) Annie Gallup is featured artist in March. You can go to her web site to sample her music and gain an overview of her. Tom's favorite last year was Geoffrey Mauldar who is an amazing vocal talent.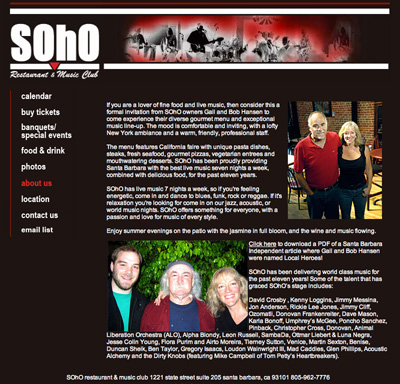 Soho offers a wide range of music (as well as dinners, drinks, or just the music). They don't have the late March schedule up yet, but it is always worth checking out. Local groups as well as name performers like the small club type atmosphere. Worth checking out. Cover charge varies depending upon the artist(s).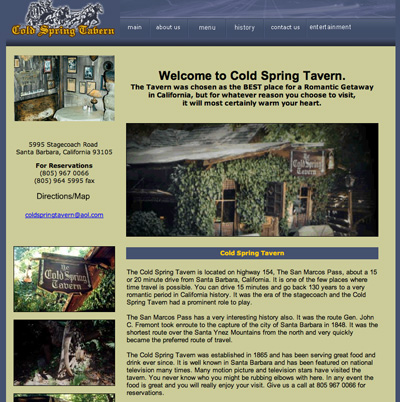 Cold Sring Tavern is nestled amongst the oaks just before the top of the San Marcos Pass on your way to the valley. Beautiful drive then hit the proper turnoff (a bit tricky, look to the left), wind your way under the oak canopy and you'll discover another Santa Barbara treasure and tradition. Music on Saturday afternoons is played outdoors weather permitting or inside with cozy fireplace should the weather take a turn towards the damp. Afternoon music has a rotation of blues, bluegrass, county popular with bikers, yuppies, scenery lovers and music aficionados. Tom Ball and Kenny Sultan are regulars and put on a great show. No cover, reasonable prices on drinks and casual food is offered. The adjacent restaurant is more upscale pricing featuring game meats and other setting-appropriate fare. Saturday evenings brings in another band to entertain. Room to dance should the vibe move you.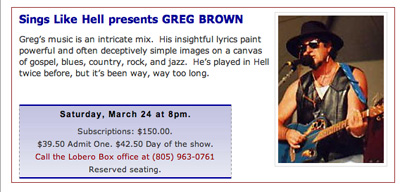 Sings Like Hell series has been a popular staple at the Lobero for a number of years now. Prices are more typical for name performers (around $40 and up) which isn't bad for the level of performers. Often sells out so check early if interested.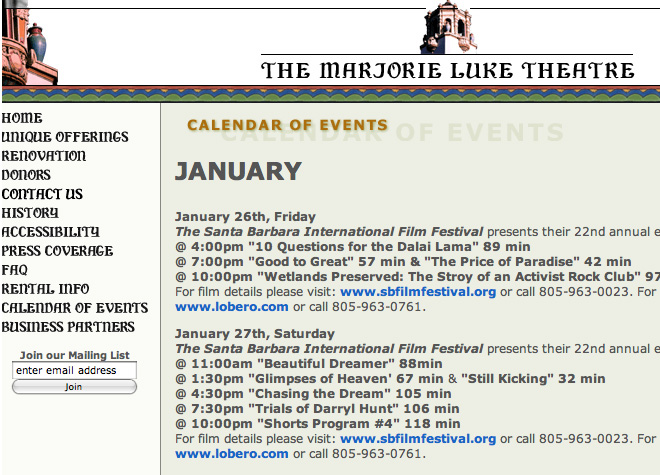 Outside of Center Stage Theater my favorite venue in town is The Marjorie Luke Theatre. And it is the most outstanding "Feel Good Project" this town has experienced in some time. My friend, Rod Lathim spearheaded the restoration of the theater in the Santa Barbara Junior High School (with assistance of fellow sbjhs alum, Anthony Edwards of ER, Top Gun, Revenge of the Nerds and other fine movies and television). The Luke's March calendar is not posted yet, but worth keeping an eye out. If not this trip, you should definitely keep it in your mental reserve bank for future visits. An awesome venue with a wide range of offerings, much like Center Stage Theater (which Rod was also instrumental in making happen long ago), but with a larger (about 700-800 seats so still SB-sized), formal setting updated with incredible design, artistry and craftsmanship.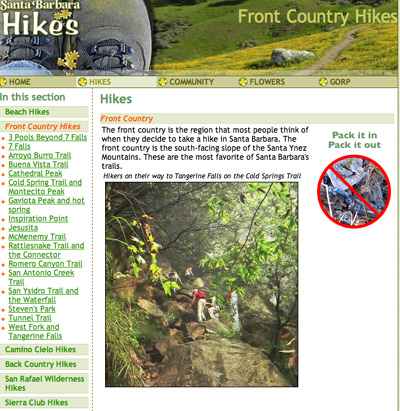 Santa Barbara is a great hiking location and is always first on my list of activities for special visitors. You get away from the touristy harbor and downtown area, incredible views, an appetite so you can eat well on your return to the club and restaurant scene, and just a nice time to enjoy conversation or to listen to the birds, flowing water and the rustle of critters in the brush. Many, many trails are readily accessible with trailheads all along the foothills. A few of my favorites are Cold Springs Trail, San Ysidro Trail and Romero Canyon Trail. San Ysidro is relatively flat, shade most of the way, easy to follow and with a waterfall for a treat. Cold Springs is the one I've taken more than any. It has more tangents and can be done by boulder hoping along the creekbed for the adventurous should you like to abandon the trail. Quite a few swimming holes and nice waterfalls. From most of the trails not only do you get to be out in glorious surroundings, but you get spectacular views up and down the coast at various points before descending once again into the shade of majestic oaks or the dappled light they create. These trails are all in the Montecito area as I lived there for quite a while. Many other trails are available. See link.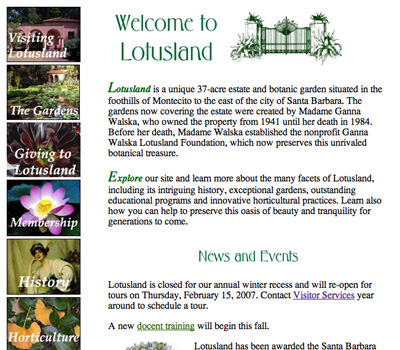 Lotusland is not highly publicized, or at least wasn't for a long time as there was a six month (or more) waiting list for tours. Pentup demand from when it first opened to the public has somewhat been sated and I am told that tours are readily available. Still good to check early. This is really quite something special. Located in Montecito, it harkens back to the glory days of grand estates in the early 1900s. The owner really did not care much about the mansion itself, as the gardens were her thing. Incredible specimens found their way to her as world travelers learned of her passions. Many great stories and an overwhelming variety and size of spoecimens.
I'll leave restaurant possibilities to you as I'm sure your group already has favorites or recommendations from friends and associates. But I'll suggest one in combination with a special treat to make it a very Santa Barbara lunch adventure. Go over to Milpas Street and find La Superica Tratoria. The on-line reviews are extremely mixed and hotly debated. Most give glowing reports but more than a few find it totally over-hyped. Not many are in between. The over-hyped seem to question its authenticity as it has obviously been discovered (over 20 years ago by Julia Childs, then the Montecito crowd and it even gets mentioned regularly in Sunset and other magazines), portions are not the belly-buster type many prefer from their Mexican restaurants, matter of fact they don't even offer that often-gigantic classic, the burrito. And it is not cheap for a paper plate type place operating in a former Foster Freeze. But if you have a man-sized appetite just order several items, which is a great way to sample more of their menu. I think the other issue is some folk just have difficulty being tolwhat is hip and cool. They either need to discover it themselves, or just don't like being seen with hip folk. While prices are higher than the food stand genre, it is still good value compared to quality sit-down restaurants. From my experience this feels clean, tasty, fun food.
When I lived in that neighborhood, my favorite way to impress visitors (and enjoy myself in the process) would be to pickup a lunch at La Superica and then drive up to Franchesi Park nestled high up on the Riviera to dine while looking out over the city in a park that feels like your magical secret place. Saturdays might find a few more folk there and on occasion even a wedding. This option probably works for a small contingent out of your armada. The park is built on a steep hillside with a few flat spots made for benches and even a picnic table to two. There is also the old, quirky residence which has spots to explore and look out at the city, breakwater and ocean below. Stunning and sort of unbelievable that such a tiny spot exists up there. Short drive from Milpas, but worlds apart. Not easy to find, but with MapQuest or other resource it is quite doable.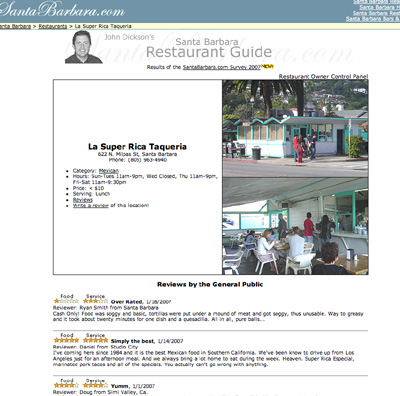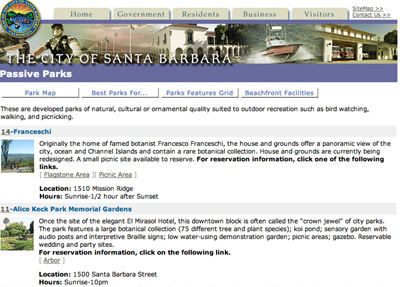 I almost forgot: Saturday mornings is an outstanding Farmer's Market featuring real food and flowers from local (and regional) producers, much of which is organic. Even without making purchases it is a great place to watch people, hear some music, visit with friends, taste samples and just feel that life is good. It runs from 8:30 to about 12:30 on East Cota just a few blocks off of State Street. It is a basic part of my Santa Barbara lifestyle.
So there you have some Santa Barbara experiences just waiting for you to experience.
Enjoy,
Tom Buhl