Tom Buhl Typographers and the Santa Barbara Design & Publishing community has provided rich experiences and a broad range of marvelous friends, collaborators and events. This community page will present occasional peeks into that world.
One of the more visible community traditions is the annual I Madonnari Italian Street Painting Festival held over Memorial Day weekend at the Old Mission. The Children's Creative Project has offered this to the Santa Barbara community as a celebration of artistry and community for over 35 years. I have participated as an artist for over 20 years. Initially, as a father & daughter activity with Crosby, then a few years solo andin the later years along with Gastil.
Besides an opportunity to embrace an artistic challenge, the three-day festival enables me to visit with friends from many walks of work and life. Every year seemed to reconnect me with friends I had not seen for far too long. When not participating as an artist, I attend to take photos and chat with artists who have become dear friends.
The other fondly embraced tradition is Santa Barbara's most unique Summer Solstice Celebration (Parade & Festival). Going strong for over 40 years, they offer a workshop and materials for young and old, experienced and beginners, individuals and groups to develop a vision they wish to share along the State Street parade route. Another father and daughter tradition with various friends and family joining us at times.
I have provided graphics services many years and also served two terms on their board of directors. Some years when not participating in the parade, Gastil and I have sold T-shirts along the parade route to help fund this annual, colorful and highly energetic summer welcome.
Center Stage Theater has played a significant role in our lives. Besides theatrical productions, they are a community resource, hosting dances, readings and lectures. The black-box style venue has flexible layouts and continually adds to their technical toolkit.
Tom served two terms on their board of directors and was most fortunate to stage the Gastil-Buhl wedding of 2005. Below is the canopied circle, festive lights with musicians in place ready for guests and featured performers to arrive. I present: the set for the Gastil-Buhl wedding of 2005.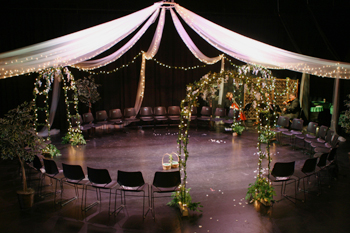 Dramatic Women and Access Theater were two companies providing entertainment, inspirations and connections with Center Stage providing the venue. I enjoyed providing graphics services, hosting readings and providing housing for out-of-the-area actors and actresses. Much of this was while Crosby was growing up. Such great experiences!
Gastil in front of our Portofino image and the Mission providing dramatic backdrop for the I Madonnari Italian Street Painting Festival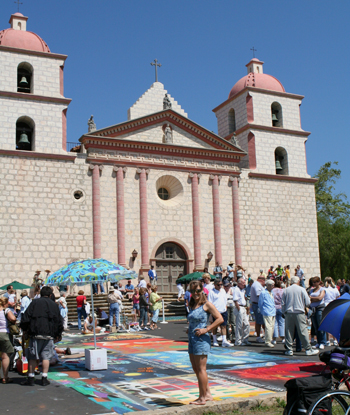 The Gastil-Buhl Dreamweaver rolls up
State Street, then over to Alameda Park for the
2006 Summer Solstice Parade.
Crew: Tom, Gastil, Crosby & Cameron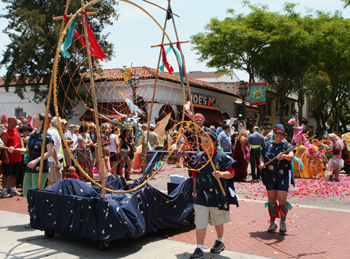 Sandi, Crosby, Cameron, Tom, Gastil,
Gordon (father), Janet (mother) and Willa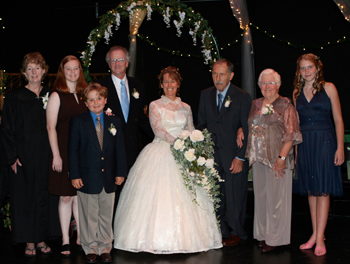 In New Orleans for the Louis Armstrong Jazz Festival. This striking figure was ever-present for any 2nd Line Parade or special gathering.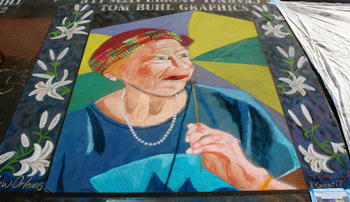 Detail from Rome's Trevi Fountain was subject of our 2006 I Madonnari chalk illustration